About the project
About the project
From October to March, the town of Rjukan lies in the shadow of the surrounding mountains, which include the towering peak of Gaustatoppen. In 1903, a bookkeeper named Oscar Kittelsen suggested using a mirror to reflect sunlight into the town. Sam Eyde, the founder of Norsk Hydro, the principal employer in Rjukan, attempted to turn Kittelsen's dream into reality. In the end, however, Eyde found it easier to build a cable car to transport his workers up into the sunlight than to bring sunlight down to the town.
When in 2005 – after two years of preliminary research and planning – the artist Martin Andersen revived the idea of installing a sun mirror, many of Rjukan's inhabitants were sceptical. Undeterred, Andersen, together with project manager Øystein Haugan and a group of local enthusiasts, worked for years to raise funds for the project. Finally in October 2013, exactly 110 years after Kittelsen first suggested the idea, Solspeilet (The Sun Mirror) was unveiled. Several thousand people, including over 100 journalists from all over the world, attended the opening ceremony, gathering in the market place to bask in the reflected sunbeams.
Solspeilet (The Sun Mirror) consists of three computer-controlled mirrors that track the sun's trajectory across the sky. The sunbeams reflected down to the market square lose only a a few procent of their intensity, giving the town over 500 hours additional hours of sunlight each year. As a result, Rjukan's market square has become a pleasant place to spend time during what used to be the long, dark days of winter.
Related content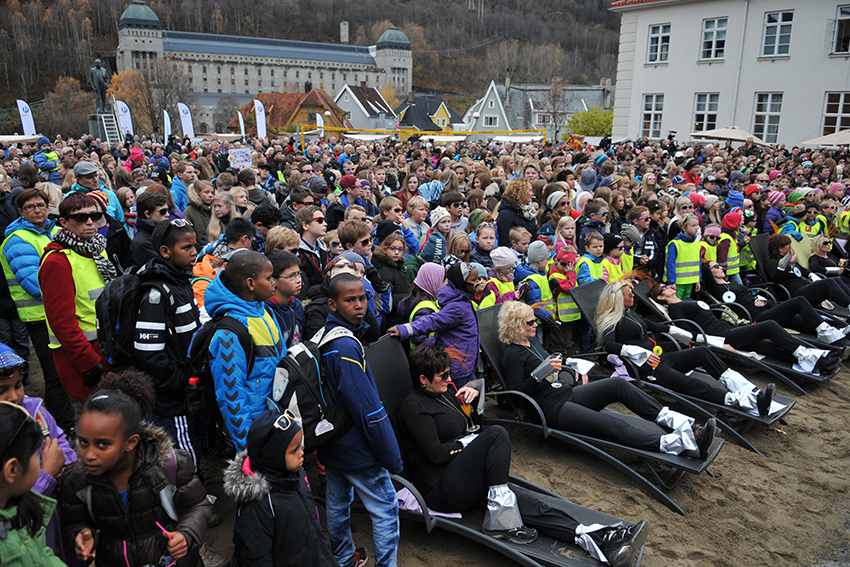 Facts
Facts
Address
Rjukan torg, Rjukan i Telemark
Project partner
Tinn kommune
Telemark fylkeskommune
Hydro
Husbanken
Tinn Energi

Program
Art scheme for outdoor public spaces (URO)