A small glimpse of a vanished age
In 1725 Leenert Hasenbosch, a Dutchman serving as bookkeeper on board a Dutch East India Company ship, was convicted of sodomy and set ashore on Ascension Island, a remote volcanic island in the South Atlantic. Marianne Bjørnmyr set out to achieve a closer understanding of the story. Her photographic series An Authentic Relation is the result.

An Authentic Relation (11), Marianne Bjørnmyr.
Tekst: Mona Gjessing Photo: Marianne Bjørnmyr, Nadia Norskott and KORO
Having packed a copy of Hasenbosch's diary, which describes the final six months of his life, and her cameras, Bjørnmyr embarked on a two-week hike in his footsteps.
– The idea for my photographic project first emerged when I realised that Hasenbosch's diary had been published several times over the years under various titles, including An Authentic Relation. I began to think more deeply about what it is that causes a story to be considered true or false. Among other things, I came across a book by a historian who had researched Hasenbosch's story.
The researcher concluded that the story could be true, as there were several correlations between events described in the diary and log entries from ships passing by during the relevant period.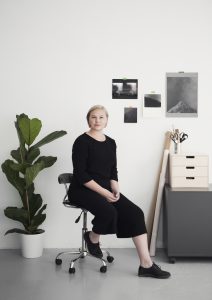 – For example, according to his diary, one day Hasenbosch hoisted a flag, perhaps in the hope that a passing ship would see him, head for the island and take him on board. At the same time, a passing ship's log entry does in fact describe a flag being noticed on the island. Another thing that aroused my curiosity was the fact that the original diary has been lost. I have spent some time pondering over which of the three extant versions of the diary is closest to the original text. This is one of several questions to which it is almost impossible to find answers, says Bjørnmyr.
Bjørnmyr used the project as a vehicle to explore ideas about the impossibility of documenting the past, and especially how this concept applies to the use of photography to document events that occurred long before photography was even invented.
Bjørnmyr came across the story of Leenert Hasenbosch almost by chance through reading a journal article, and was intrigued by the story of man who died after a half year of being left alone with nothing other than a little fresh water, salt, a tent, a notebook and a pen. Another aspect of this remarkable story is that Hasenbosch's corpse was never found.
Ascension Island is a tiny volcanic island that lies approximately 1,300 kilometres north-west of the historically famous island of St. Helena, where Napoleon was exiled in 1815. Despite having little information about the island, Bjørnmyr was eager to travel there. Ascension Island is today part of a British overseas territory, so Bjørnmyr had to apply for permission from the island's somewhat undefined Ascension Island Government, and buy a ticket to fly to the island with the Royal Air Force.
For me using photography to document something about Hasenbosch's life was an interesting challenge. I responded both to his diary and to the landscapes I encountered on the island. I found several of the places Hasenbosch describes in his diary, but the climate on the island is somewhat different today than it was in the 18th century. This is the result of a Darwinian project involving the cultivation of a rainforest on the highest part of the island. When I came home and was preparing to develop my films, I was in great suspense about the results, about whether the images and the cameras had survived the high temperatures and the long journey.
Bjørnmyr takes all her photographs using analogue techniques, and for this project she took with her, for practical reasons, both large- and medium-format cameras.
– A large-format camera is not especially good for example on steep slopes or in strong winds, both of which the island has in abundance. Fortunately, everything went well.
An Authentic Relation Marianne Bjørnmyr. Photographer: KORO/Janicke Iversen
For a dark-grey, 10-metre-long wall in one of MH2's discussion zones, Public Art Norway's art consultants wanted an exhibition of leading contemporary examples of lens-based art. The idea was to display photography that was youthful and challenging. The choice fell on the project An Authentic Relation. Initially the project was published as a book, but subsequently it has also been presented as wall art.
– For MH2, we will display a total of 16 framed images, of which three will comprise extracts of text from the diary and 13 will be photographs. The images have been framed in a traditional manner, but I am working on an asymmetric hang that will discourage a linear reading. It should form a network of documentation. The photographs are not at all intended as illustrations to the extracts from Hasenbosch's diary, but more as freestanding constructions. Something that's surprising about this work is that although it was completed two years ago, this spring I received a number of enquiries concerning the project. As a result of this interest, I've redefined certain questions and investigated them further. I've also included in the series a photograph of a stone I found on the island. After I found this stone, I remember standing for a long time and thinking about how Hasenbosch might have touched the same stone, says Bjørnmyr, smiling.
Today, many people are aware that photography is not capable of depicting reality 1:1. In Bjørnmyr's opinion, however, people should not be too quick to write off the power of documentary photography.
– Perhaps my projects actually open up the possibility of capturing something 1:1 all the same…? Photography does of course always reveal traces of the reality that was there, while at the same time it is never completely unbiased. We don't need to doubt that photography is connected to the real world: it is real light reflected on a real object or landscape, a transfer of an image in which no detail is overlooked. The conflict is really more about the relationship between photographic rules and questions about realism: photography inhabits the space between what we see and what we know, and what it really is, and how genuine this thing is. If one looks superficially at a photograph, it's nothing other than a model of the world – the photographic «proof» has a discouraging relationship with reality: it has a visual and indexical similarity with the landscape that's been photographed. Then perhaps the act of taking a photograph becomes instead a kind of performative gesture that refers to this particular event. An event where reality lies in the power of photography to create, narrate and make things visible.
An Authentic Relation (5), Marianne Bjørnmyr.
Bjørnmyr returned home to Norway, more precisely to Bodø, two years ago, after several years spent studying in London. In those two years, Bjørnmyr and her partner Dan Mariner, who is also an artist, have established the artist-run production complex Atelier NŌUA in Bodø. Atelier NŌUA consists of research space/offices, darkrooms and framing workshops, and is also a professional and social meeting place for artists.
– My artistic development takes place from project to project, both technically and conceptually, and at the moment I'm in a production phase where I'm conducting in-depth research into the psychology of perception and what it really means to have any perception of something. I'm also interested in the fleeting aspects of knowledge, the idea of knowledge as something that changes over time. I think a lot about how today's truths may one day be replaced by new truths, says Bjørnmyr.