The ground beneath our feet
– I like the idea of people stepping onto the art and walking across it, says artist Gunilla Klingberg, who is creating a floor-based artwork for the new Medicine and Health Studies Building (MH2) at UiT The Arctic University of Norway, Campus Tromsø.

Words: Therese Tungen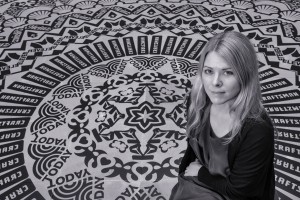 Many works by Gunilla Klingberg unite her fascinations with contemporary consumer culture, low-budget design, and oriental imagery. Following her graduation from Konstfack (the University of Arts, Crafts and Design) in Stockholm, Klingberg produced a series of works titled All Lost in the Supermarket, which re-imagined the commercial logos that surround us in our everyday urban environments. One work in this series, her video Spar Loop, dating from 2000, transformed the logo of supermarket chain Spar into kaleidoscopic, alien forms that draw the viewer towards them. The work is beautiful and enthralling – in a way that borders on disturbing.
In recent years, Klingberg has completed several public art commissions, including works for Triangeln Railway Station in Malmö, the Bio Medical Research Center in Lund, and Akershus University Hospital. Currently, Klingberg is working on a floor installation for MH2, a new building for the Faculty of Medicine and Health Studies in Tromsø, which is scheduled for completion in spring 2018.
– When I embark on this type of project, my starting point is the activities that take place in the building, the place itself, and its function, says Klingberg.
– The scale of the work is important. In Tromsø, the surface area is relatively large, but people will view the work from eye-level. They will experience the visual pattern as though it is continuous, as though it has an expansiveness, perhaps an imagined endless continuation, in its external form as well as in its repetitive graphic pattern. I've also thought that you should be able to fix your gaze on a point just next to wherever you happen to be standing. Seen as a whole, the symbols in the pattern may appear abstract, but if you stop and look more closely, the images are recognizable.
Above the Arctic Circle
The design of the new MH2 building in Tromsø had to fit with the existing Medical and Health Studies Building (MH). Dating from the 1990s, MH has a Modernist appearance. In connection with the completion of this earlier MH building, Søren Ubisch created a monumental floor installation using ceramic tiles. Ubisch's installation was inspired by traditional oriental patterns, which have also influenced Gunilla Klingberg's art.
– Symbols can function at a subconscious level, says Klingberg.
– I'm interested in everyday, recognizable, archetypal symbols, as well as in the visual languages found in Buddhism and oriental traditions, where patterns and images are not simply ornamental, but also convey meaning.
Klingberg's Tromsø project will be realized in close collaboration with structural engineers and other professionals.
– It's exciting to conduct a dialogue with architects and craftsmen, says Klingberg.
She visited Tromsø for a site inspection at the start of the project and was inspired by the university's physical setting.
– I'm fascinated by the geography of the place. Or rather, by its astronomical position, in that it's located above the Arctic Circle, close to our Earth's axis,  she says.
Floor project by Gunilla Klingberg at Akershus University Hospital. Foto: Guri Dahl
A medical building
How do you relate to the function of the building – the fact that it's a building for medical students and medical research?
– I think about how the study of medicine and medical research are about human compassion, closeness and the human body, as well as about being oriented towards the future, existentially, philosophically and scientifically. The ideas are not only easy to grasp and close to us but also infinitely large.
After Klingberg completed her floor installation for Akershus University Hospital, she said that she had wanted to express something existential, since a hospital is one of the modern public institutions that takes care of us when our bodies in some way or other need attention. To create the pattern for the hospital floor, Klingberg collected information symbols, labels and pictograms used in the hospital environment. She then assembled, repeated and distorted these graphic objects to create a circular mandala pattern.
From the transitory to the eternal
While Klingberg's use of symbols and her method have been consistent features of her artistic practice, her use of materials has varied. In 2012, she executed a project titled A Sign in Space on a beach in the Basque region of Spain. A vast pattern of repeated stars was imprinted across the sand by using a tractor to pull a giant roller, bearing a pattern made of tyre treads, back and forth across the beach. The work was created at low tide, after which the pattern was erased gradually as people walked on it. Finally, it disappeared completely when the tide came in. Two temporal cycles interacted in the creation of the work – the tidal cycle and the working hours of the tractor drivers. Or to put it in another way, cosmic time interacted with 'modern time', and its associated economic constraints.
A sign in space. Gunilla Klingberg. Foto: Peter Geschwind
If you ask Klingberg to name a project where the interaction between the place and the work is particularly successful, she singles out Everyday Patterns at Triangeln Railway Station in Malmö.
– This was my first major public art commission and the result was very much in tune with my intentions, she explains.
– I thought about the station as a passageway in constant movement and about its location between two major points in the city: the Triangeln Shopping Centre and the Church of St. Johannes: the commercial and the spiritual.
The project consists of four installations made of materials, objects and visual signs taken from the urban environment. These include a floor surface covered by an ornamental graphic pattern that is limited to shades of grey, containing everyday informational pictograms.
– The symbols I used were taken both from the immediate surroundings in the subterranean station area and from the world above, says Klingberg.
– A sculpture suspended from the ceiling between two escalators is a reflective globe made of clustered convex surveillance mirrors. The mirrors create the impression of reflections that continue into infinity. A stylized electric sun shines continuously at a constant strength, and in one of the entrances, shiny lotus flowers emerge from the wall. The petals reflect travellers in a fragmented fashion, like a sequence from a film.
One of Klingberg's works at the Triangeln Railway Station in Malmø. Foto: Merja Diaz
The curator and author Sara Arrhenius has written that the critical aspect of Klingberg's art is not how she points things out and condemns them, but how she much more deviously entices the viewer in and generates fascination with the ideas and images that she investigates in her works. According to Arrhenius, it is difficult to talk about an«inside» and an«outside» with Klingberg.
– Instead, we are all conspirators in a consumer culture that comprises the raw materials for her art, whether we like it or not.
What is it like to make art for a public space – art that is intended for a use that is as practical as flooring?
– The fact that the floor will be walked over for many years imposes high demands on the materials, the construction, and the durability. Over the years, I've created several floor-based artworks for various public environments, and I've gained experience of methods and materials. I've experimented and conducted repeated testing in close collaboration with expert craftsmen, something that has given me valuable experience in dealing with methods and materials. New possibilities open up when you work outside gallery spaces and art institutions. For a long time to come, many people will walk across the floor every day, and I think that the floor's repetitive pattern in a way reflects people's repetitive movements.