Multi-faceted view of a fly's brain
A strip of stainless steel extends along the lower part of the façade and curves in towards the main entrance of the new Medicine and Health Studies Building (MH2) at UiT The Arctic University of Norway (UiT). The gleaming, perforated strip depicts an enlarged, rasterized electron-microscope image of the brain of drosophila melanogaster. More commonly known as a fruit fly.
Fluehjerne, Beret Aksnes, Vegar Moen. Photographer: Beret Aksnes & Vegar Moen
Tekst Mona Gjessing Photo Kjell Ove Storvik, Vegar Moen and Beret Aksnes & Vegar Moen
In medical and genetic research, this fly is considered an extremely important source of knowledge about learning mechanisms, circadian rhythms, and the human nervous system. It is no wonder that the motif was received with great enthusiasm by the staff of the Electron Microscope Department at UiT. When the competition for the commission was over, and it became known that the winner was Fly Brain, Randi Olsen, a senior engineer at UiT, suggested replacing the original scanned photograph of a fly brain, which had been sourced from the University of Lund, with a similar photograph taken on campus. The response needed almost no thought.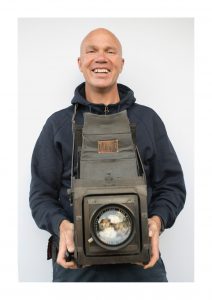 Fly Brain was proposed by textile artist Beret Aksnes and photographer Vegar Moen.
– Having a good collaboration with researchers on the campus and taking advantage of local expertise was important for both of us, says Moen.
–To start with, certain well-meaning friends warned us against calling the art project Fly Brain.
They suggested that the choice of motif might be seen as disrespectful, but given that everyone who is involved in medical research is aware of the fly's brain as a subject of research, the proposal was received very well by both the art committee and the researchers on campus.
– This doesn't mean, however, that Fly Brain lends itself to an unambiguous interpretation. Our choice of motif also encompasses a kind of call to humility, says Moen.
– One way of approaching Fly Brain as a composition is to read it as a reminder that perhaps we're not as big as we think: that our human brains, and we as human beings, are far from as unique as we'd like to believe, says Beret Aksnes.
– We are living in an age when bees are dying, and insects are disappearing. We both can and should see ourselves reflected in the tiny organisms among us. In addition, Vegar and I think it's amusing to imagine both users of, and visitors to, the building being reflected in a fly's brain when they approach the entrance, she says, laughing.
Aksnes and Moen had already established the idea of using a brain in an aesthetic context when they began sketching their proposal for a wall installation at the base of MH2's façade. Since 2009, they have been awarded a total of 10 public art commissions, and just before they started working on Fly Brain, they had been discussing how a photograph of a cross-section of the pleasure centre of a human brain could be used as the starting point for an art project in connection with a communal housing complex for drug addicts in Trondheim.
– For that housing project, the client had expressed a desire for a work produced in perforated aluminium. After Beret and I had decided that we wanted to use a photograph of the brain's pleasure centre as the basis for the design of our project, we obtained images of a brain via contacts in Vienna. The fact that there is now a façade in Trondheim bearing images of precisely that brain feels intimate and powerful, says Moen.
Neither Aksnes nor Moen finds it problematic to work in their collaborative projects with types materials other than those they would use in their personal work.
– We work with different materials and techniques depending on the concept and purpose of the commission. This is the second time we have worked with a raster-based technique – first with Pleasure Centre and now at MH2.  In both cases, the absolutely most important thing is the actual detail of the image and how we make it into an object for further aesthetic manipulation, says Aksnes.
Fluehjerne Beret Aksnes, Vegar Moen. Photographer: Vegar Moen
– Coming to the material we have chosen for Fly Brain, I derived inspiration from <em>Spejlhuset</em>
(«The Mirror Building»), a building clad in mirror-polished stainless steel that I passed in Copenhagen. A mirror symbolizes the threshold between reality and illusion. I realized that stainless steel would be perfect for MH2, not only because of its durability and the shiny surface that reflects its surroundings, but also because stainless steel is of central importance for the field of medicine. The same applies to mirrors, which of course are present in various medical instruments from microscopes to speculums. I'm also thinking about mirrors more figuratively, as the word is used in psychology: as the ability to reflect oneself in others, says Moen.
When the perforations are made in the steel, which incidentally is produced in Sweden, they generate many layers of images. The steel panels are mounted 80 millimetres proud of the wall of MH2, and the two artists chose to illuminate the image from behind, with LED lighting placed in the gap, so that there would be one image in the day and another in the evening and at night. What is black in the day becomes white at night, and vice versa. Thinking of the different seasons, and not least the polar night, they think this was a good idea. Many different solutions were discussed, however, and a number of aesthetic evaluations were made during the process.
– In the original proposal we sketched how the LED lighting could be multicoloured and controlled by different parameters – a weather forecast, for example, or the number of people present in the building. On closer consideration we moved away from this original proposal, because we both feared that such a solution could draw attention away from the beautiful images, and not least their reflections. The completed Fly Brain contains a sensor that controls the lighting solely in relation to the actual light conditions outdoors, explains Moen.
– Many advanced calculations lie behind the actual façade motif: to determine the number of holes, the sizes of the holes, and the distances needed between the holes in order to avoid unwanted interference from moiré patterns.
Fluehjerne Beret Aksnes, Vegar Moen. Photographer: Vegar Moen
Calculating how dense one should make the raster pattern and how big the holes should be to reproduce the image in the best way possible, undoubtedly demands visual skills. In their work on both Pleasure Centre and Fly Brain, both artists used their particular areas of expertise: Moen his photographic knowledge and Aksnes her knowledge of patterns and pattern-making. In addition, Aksnes had worked with raster images previously, in her work Pulse for the façade of Arena Larvik.
– Vegar and I have different artistic practices, and this is a strength of our collaboration. The starting point for my own work derives from mathematics and the natural sciences. There are so many ways of describing the world and some, such as mathematical language, are more abstract than others. I've been interested in mathematics since I was at primary school, and I'm particularly fascinated by what are called irrational numbers, such as pi. Vegar has mastered most photographic techniques, analogue as well as digital, camera obscura, film, and video. When Vegar and I work together on joint projects, such as Fly Brain, we put our «darlings» aside and concentrate on how we can use a public space to engage and surprise, and to ask important questions. Every project is developed from scratch on the basis of the specific site, and when we took MH2 as our starting point, we spent a long time thinking about questions such as: What is the real nature of a medical faculty? What do they do there? And what do the students think about studying medicine or health studies?
Other projects
Beret Aksnes and Vegar Moen are currently working on an art project titled The Complete Picture for a new bank, library and apartment development at Sand in Nord Odal. The project is scheduled for completion during 2019.
Simultaneously, Aksnes is working on a project titled Questions about Symmetry, in which she is investigating, among other things, how the concept of symmetry is used in everyday speech, different artistic disciplines, mathematics, science, and descriptions of social events. Aksnes is currently working on preparatory sketches for this project.
In summer 2018, Vegar Moen exhibited a small collection of photographs on the theme of youth and the cultural monuments at Røros. Moen is also working on a larger photographic project titled The Apparatus that Makes Art. The result will be exhibited at Trøndelag Art Museum in 2019.